How can survival of the well dialysed patient be increased?
Neptune's Poisoned Chalice: A tragedy of Modern Therapeutics

Stanley Shaldon MA.MD(Cantab). FRCP(Lond).

Address for correspondence
Stanley Shaldon MD
7 Avenue des Papalins
MONACO 98000
Email shaldon@webstore.mc

---



NEPTUNE'S POISONED CHALICE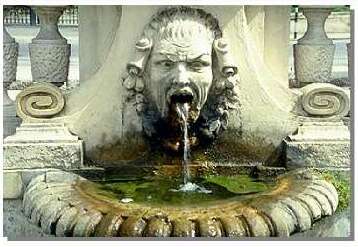 SODIUM OVERLOAD AND HYPERTENSION IN ESRD PATIENTS
The Oxford University Dictionary definition of OPINION is as follows "A judgement or belief based upon grounds short of proof". The title of this opinion implies that an adequate dose of dialysis, whatever that may be according to the paradigm of the day has been prescribed. Therefore, I am not going to discuss any efforts to increase dose or frequency of dialysis, however topical they may be. I am devoting this opinion entirely to a method of curing hypertension in dialysis patients without the use of drugs.
The first mention of the ability to control hypertension without the use of drugs was in 1961. The first four patients treated by longterm dialysis in Seattle were hypertensive. The hypertension was well controlled by a low sodium diet and ultrafiltration alone. Drug therapy had been stopped in three patients as it was producing too many side effects and was relatively ineffective (1).
Two years later, we reported our initial success with a a low salt diet and adequate ultrafiltration in a 32 year old patient whose eye sight was restored when the severe drug resistant malignant hypertension was relieved by dialysis ultrafiltration and a reduced salt intake (2). We subsequently reported our results in a further 9 patients in whom we measured exchangeable sodium and total body water during the initial months involved in treating their hypertension (3). The most interesting finding was a lag response of several months between the lowest level of exchangeable sodium and the ultimate lowest maintenance blood pressure.
This suggested that an adaptive phenomenon to the reduction in total body sodium was occurring at a later time interval, and was not the direct effect of volume control. In the following three decades, the use of a salt restricted diet has largely been abandoned. Only three groups (4,5,6) have reported remarkable blood pressure control in over 95% of their patients for prolonged periods of time without the use of hypotensive drugs. The most quoted group has been Tassin (4) and although they practice salt restriction (5.0g/day) and use a dialysate sodium of 138 mmol/l, there has been a tendency to attribute the excellent longterm survival to long hours of dialysis without stressing until recently the importance of salt restriction. Indeed, no mention of salt restriction occurs in any publication from Tassin between 1983 and 1998. As the lengthening of dialysis time would imply a considerable increase in cost for in centre dialysis and is therefore largely impractical for the majority of patients, we decided to evaluate the role of salt restriction (5-6g/day) and a dialysate sodium of 135 mmol/l without any increase in dialysis time (4-5hrs) in a group of selected hypertensive patients treated by hemodialysis for between 1-18 years (7). The results of this pilot study were limited . In 4/7 patients, all hypertensive therapy could be stopped and Mean Arterial Pressure was reduced to less than 100mmHg in these 4 patients (fig 2). In the 3 patients who were clearly unable to comply with a 5-6g/day salt intake, drug therapy, although reduced was required, and intolerance of a sodium dialysate of 135mmol/l was observed. Nevertheless, the results suggested that in compliant patients, a mean arterial pressure less than 100mmHg could be obtained and maintained by a simple reduction in salt intake, without any drug therapy or reduction in dry body weight. However, interdialytic weight gain was reduced to less than 2.0kg and dialysis tolerance was improved with reduction in post dialysis fatigue.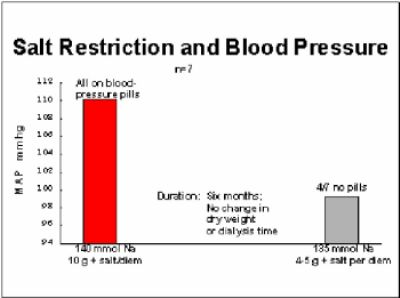 Fig 2.The effect of salt restriction (5g/day) on ambulatory blood pressure after six months. (ref:8: Krautzig et al Nephrol Dial Transplant 1998:13:552-553)
The mechanism underlying this phenomenon is only partially understood. It is associated with a reduction in peripheral vascular resistance, without a decrease in cardiac output (figs 3,4) (8,9). Current thinking suggests that the flavour of the month may be a reduction in plasma 1-ADMA (Asymmetric Dimethyl Arginine), a known inhibitor of nitric oxide synthetase (10). Alternatively, sodium overload could lead to a reversal of the inhibition of the Na+/K+-ATPase via an endogenous digitalis-like substance, the result of which would be an increase of the intracellular sodium and calcium concentration with an increased tone of vascular smooth muscle cells. Reducing the sodium load could reverse this mechanism (11). Finally, a link between sympathetic overactivity as it is found in haemodialysis patients and the sodium overload could be an alternative hypothesis.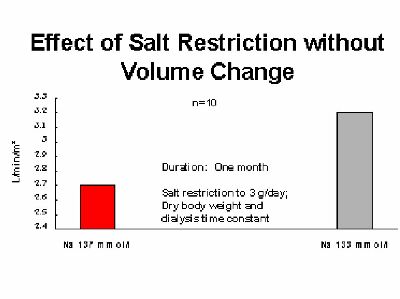 Fig 3:Low sodium hemodialysis without fluid removal increases cardiac output in chronic dialysis patients ( P Donohoe et al Kidney Int; 1997 52:1110)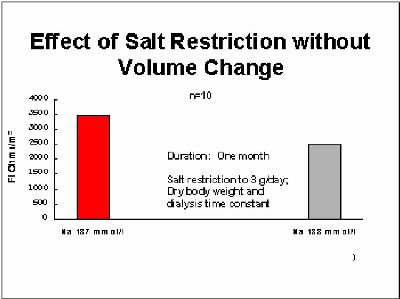 Fig 4:Low sodium hemodialysis without fluid removal reduces total peripheral resistance in chronic dialysis patients ( P Donohoe et al Kidney Int; 1997 52:1110)
Whatever the rational explanation for the empirical benefit of salt restriction in the hypertensive dialysis patient proves to be, the clinical benefit is undeniable and associated with the best survival data in the world. It can be achieved with virtually no added cost and does not impose a boring and unpalatable diet upon the patient. Indeed, it is worth remembering that in Tuscany, where regional Italian Cuisine arguably reaches its pinnacle, salt free bread is the regular bread sold in the bakeries. Perhaps the time has come to cast aside Neptune's poisoned chalice and give the well dialysed patient a longer and healthier life with fewer complications with no added expense.
Acknowledgement This article has been modified from the text published in Seminars in Dialysis Jan-March 2000.

REFERENCES 1.Hegstrom RM, Murray JS, Pendras JP, Burnell JM, Scribner BH: Hemodialysis in the treatment of chronic uremia. Trans Amer Soc Artif Internal Organs 7:130-152, 1961
2.Rae AI,Rosen SM, Silva H, Oakley J, Shaldon S: Refrigerated femoral venous-venous haemodialysis with coil preservation for the rehabilitation of terminal uraemic patients. Brit Med J 1:1716-1718, 1963.
3.Comty C. Rottka H, Shaldon S: Blood pressure control in patients with endstage renal failure treated by intermittent haemodialysis. Proc Europ Dial Transplant 1:209-220, 1964.
4.Charra B, Calemard E, Ruffet M, Chazot C, Terrat JC, Vanel T, Laurent G. Survival as an index for adequacy in hemodialysis: Kidney Int 41:1286-1291, 1992
5.Goldsmith DJ, Covic A, Ackrill P. Interdialysis blood pressure control by long haemodialysis: Nephrol Dial Transplant 11:401-402, 1996.
6.Ozkahhya M, Ok E, Cirit M, Aydin S, Akcicek F, Basci A, Dorhout Mees EJ: Regression of left ventricular hypertrophy in haemodialysis patients by ultrafiltration and reduced salt intake without antihypertensive drugs. Nephrol Dial Transplant 13:1489-1493, 1998.
7.Krautzig S, Janssen U, Koch KM, Granolleras C, Shaldon S: Dietary salt restriction and reduction of dialysate sodium to control hypertension in maintenance haemodialysis patients. Nephrol Dial Transplant 13:552-553,1998.
8.Luik AJ, Charra B, Katzarski K, Habets J, Cheriex EC, Menheere PPCA, Laurent G, Bergström J, Leunissen KML: Blood pressure control and hemodynamic changes in patients on long time dialysis treatment. Blood Purification 16:197-209, 1998
9. Donohoe P et al: Effect of low sodium dialysate on cardiac output and total peripheral resistance in chronic dialysis patients. Kidney Int. (abstract) 52:1110; 1997
10.Vallance P, Leone A, Calver A, Collier J, Moncada S. Accumulation of an endogenous inhibitor of nitric oxide synthesis in chronic renal failure: Lancet 339:572-575, 1992.
11. Hamlyn JM, Hamilton BP, Manunta P. Endogenous ouabain, sodium balance and blood pressure; a review and a hypothesis: J Hypertension 14:151-167, 1996.
---