---
INTRODUCTION
Continuous ambulatory peritoneal dialysis (CAPD) is a well-established method of treatment in patients with end-stage renal disease. Besides, CAPD has now become an increasingly used form of renal replacement therapy.
The use of CAPD has provided a mean of regulating some patients who would otherwise have been denied therapy because haemodialysis was inappropriate, unavailable or failed.
In this context, any efforts and methods to improve the management of patients in CAPD are welcome.
Peritoneal dialysis catheters are usually placed using a traditional technique performed under local anaesthesia that consist on the insertion of the device through a supraumbilical or infraumbilical incision, placing the catheter into the pelvis and tunnelling the catheter subcutaneously to an entry site in the abdominal wall. This traditional technique is usually safe if well executed but if the patients had a previous abdominal operation cannot be safely performed.
Laparoscopy was initially applied in gynaecological procedures, and it was not until 1991 that general surgeons began to take notice when Muhe introduced the first laparoscopic cholecystectomy. The excellent preliminary results achieved by the pioneers of laparoscopic cholecystectomy, coupled with a groundswell of support in the lay press, led to the convening of a National Institutes of Health Consensus Conference in 1992 to consider the position of laparoscopic cholecystectomy. This panel concluded that the technique was a bona fide alternative to open cholecystectomy. Thereafter, laparoscopic applications for a variety of surgical procedures have subsequently been described.
The purpose of this conference is to provide an overview about the use of laparoscopy as a tool for the placement of peritoneal dialysis cat
PRIMARY LAPAROSCOPIC PLACEMENT
Laparoscopic salvage and lysis of adhesions for of malfunctioning CAPD catheters are well-established procedures. However, the routine use of laparoscopy for primary placement is controversial in some cases.
Patients without previous abdominal surgery
These patients are better treated by means of a traditional technique under local anaesthesia. This technique can be considered a minimally invasive procedure if well executed and the general benefits of the laparoscopic procedures are unimportant (small incisions, decreased postoperative pain, aesthetic benefits, fast recovery, etc). Moreover, laparoscopy requires general anaesthesia, it is time consuming and it is a high cost procedure in contrast to the traditional procedure.
Thus, we consider laparoscopy a poor indication for the general patient but some cases can be selected for a laparoscopic approach. Patients in which a difficult procedure is suspected can benefit of a laparoscopic management. In children and young adults, whose pelvis is shallow, placement of a CAPD catheter is often associated with extra pelvic migration, resulting in catheter malfunction. In addition, obstruction of the catheter by omentum threatens long-term patency. In addition, in obese patients, it is difficult to direct the catheter to the pelvis and obstruction of the catheter by omentun and mesenteric fat is a common contingency. For these reasons, in selected patients, pelvic placement and suturing of the catheter could be done under direct laparoscopic visualization.
Patients with previous abdominal surgery
In patients with previous abdominal surgery peritoneal catheter implantation using a conventional procedure cannot be safely performed. In these cases there is an increased risk of viscera damage due to the adhesions between intestinal loops and parietal peritoneum. In addition, the presence of widespread adhesions may cause reduction of surface exchange of peritoneal membrane and drain failure of dialysis solution.
Laparoscopy allows for direct visualization of intraabdominal adhesions and adhesiolysis, facilitate the exact catheter tip location and permit to test the catheter function immediately.
However, primary laparoscopic placement of CAPD catheters has some drawbacks that are summarized in Table 1.
Table 1
| | |
| --- | --- |
| ADVANTAGES | DISADVANTAGES |
| Low risk of visceral damage | Skilled surgeon and team |
| Evaluation of the adhesions | General anaesthesia |
| Adhesiolysis | Cost of instrumentation |
| Exact catheter location | Need of an operating room |
| Immediate test for catheter function | |
SURGICAL TECHNIQUE
Under general anaesthesia a 13 mmHg pneumoperitoneum is induced through a Hasson trocar placed 3-4 cm cephalad or caudal to the umbilicus and far from midline previous laparotomy scars. Hasson trocar (figure 1) permits a blunt and trocar insertion by a 12 mm incision (figure 2).
| | |
| --- | --- |
| Figure 1 | Figure 2 |
The laparoscope is introduced by this trocar. Placement of other 5 mm accessory trocars depends on the nature of the adhesions, etc. Although one trocar procedure has been reported previously our sense is that one surgeon has two hands so it is necessary to install at least two trocars.
Adhesiolysis is performed (figures 3, 4.) trying to obtain a complete free abdomen and the Tenchkoff catheter is inserted.
| | |
| --- | --- |
| Figure 3 | Figure 4 |
Using grasping forceps (figure 5) catheter position is achieved and flow is tested.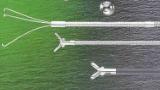 Figure 5
In cases in which malposition of the catheter could be expected an anchor suture of absorbable material at the medial umbilical ligament is placed.
After the pneumoperitoneum is released, the trocar fascia and skin incisions are closed and the function of the catheter is tested.
Twenty-four hours following the procedure CAPD is started using small volumes gradually increasing.
If fluid leakage is detected, reclosure of the trocar incision is mandatory.
SUMMARY
1.- Primary laparoscopic placement of CAPD catheters is a safe and valuable technique but not a routine procedure. Selected patients such as children, young adults and obese adults can benefit of the technique.
2.- Patients with previous abdominal surgery are the best candidates for primary laparoscopic placement of CAPD catheters.
3.- Laparoscopy used for catheters implantation allows the resumption of CAPD immediately after surgery avoiding haemodialysis.
4.- Finally, although exceeding the subject of this conference is absolutely necessary to remind that laparoscopy is fundamental for diagnosis and rescue of catheter dysfunction.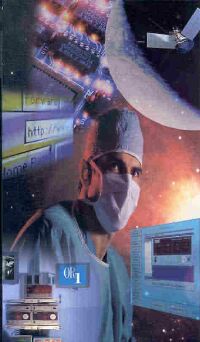 ---