---
DEFINITIONS
Before starting, I would like to define a number of terms that will be used repeatedly in this presentation.
Adynamic bone: It is a condition of low bone turn-over (defined by histomorphometric cuantification: low BFR, low cellularity and normal or reduced osteoid thickness.
Relative hypoparathyroidism: Means that the PTH levels although high as compared with normals, is insufficient to maintain normal bone turn-over
Elderly: There is no universally accepted age that is considered elderly among societies. Presently in most Western countries, 60 or 65 is the age of eligibility for retirement and old-age social programs and used in most articles to define the elderly.
Acronyms used in the text
ABD: Adynamic Bone Disease
PTH: Parathyroid Hormone
MHD: Maintenance Hemodialysis
ESRD: End-stage renal disease
Ca: Calcium
P: Phosphorus

MAGNITUDE OF THE PROBLEM

Nowadays, elderly and diabetic patients have become the largest group of patients on MHD therapy.
Concurrently, relative hypoPTH with ABD is more frequent, and in most reports, is the commonest form of renal osteodystrophy. ABD is the most common form of bone disease in MHD, predialysis and peritoneal dialysis patients (Torres A et al: Bone disease in predialysis, hemodialysis and CAPD patients: Evidence of a better bone response to PTH. Kidney Int 47:1434-1442, 1995)

CLINICAL RELEVANCE
Traditionally: ­ Ca, ­ P and ­ PTH are considered independent risk factors of uremic calcification among other mineral metabolic complications. In many cases the therapy of these abnormalities resulted in an oversupression of PTH.
· Recently, some paper reported that the apparent better control of PTH values in the elderly should not be considered innocuous. Along with a higher incidence of ABD, lower PTH levels may be associated with an increased risk of fractures, soft tissue calcification and death.
· Thus, the magnitude of this problem justifies further efforts to know the mechanisms involved in its pathogenesis.

MECHANISM OF ABD IN THE ELDERLY

Diabetes, peritoenal dialysis, aluminum intoxication, and advanced age; all of them associated with relatively low PTH values, have been identified in the pathogenesis of ABD. However, the specific mechanisms remain unclear particularly in the elderly.
I would like to go into two possible mechanisms recently studied by our research group:
1.- A decreased Bone response to PTH
2.- The spontaneous decrease in Protein Intake observed in the elderly, leading to better control of serum P and lower levels of PTH.
Decreased Bone response to PTH
Here we have the percentage of Osteoblast surface (mean and SD) in patients older and younger than 55, and adjusted for PTH. Then, we see that for the same levels of PTH, the Osteoblast surface is significantly higher in younger patients, suggesting an skeletal resistance to the action of PTH, or in other words, a decreased bone response to PTH (A Torres et al. ASN/1999)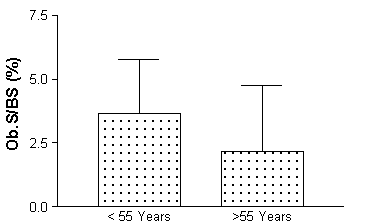 The next Figure shows the correlation between PTH and Osteoblast surface in patients of two age groups. The slope of the regression line was lower in patients older than 55 as compared to those younger. Thus, for each PTH value a lower Osteoblast surface is obtained in older patients.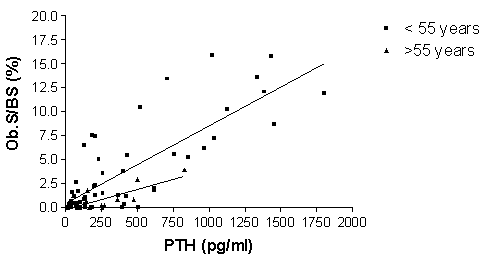 Spontaneous decrease in protein intake
Studying the nutritional status of our ESRD patients, we observed a spontaneous decrease in nutrient intake in the elderly population.
Since the dietary intake of P is closely related to the intake of proteins, as we described in the next Figure, we hypothesize that the observed spontaneous decrease in protein intake in the elderly may favor a better control of serum P and PTH levels. If this is true, the high incidence of relative hypoparathyroidism and ABD among elderly HD patients may be attributed, at least in part, to changes in their nutritional habits.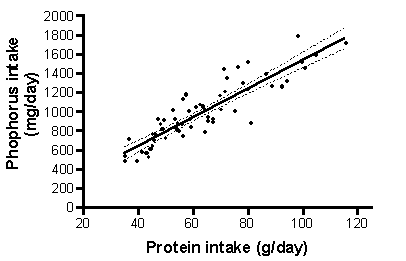 Rufino M et al: Nephrol Dial Transplant 13:65, 1998
The aim of the present study was to evaluate whether the spontaneous decrease in protein intake in elderly MHD patient was associated to a reduction in serum phosphorus concentration and a better control of secondary hyperparathyroidism.
This data has been published in: Lorenzo V et al: Protein intake, control of serum phosphorus and relatively low levels of parathyroid hormone in elderly hemodialysis patients. Am J Kid Dis 37:1260-1266, 2001
We performed a cross sectional study including 207 patients on standard HD, from 6 spanish centers, Patients receiving CTR were not included. Dietary intake was recorded over 5 day-period in 95 patients.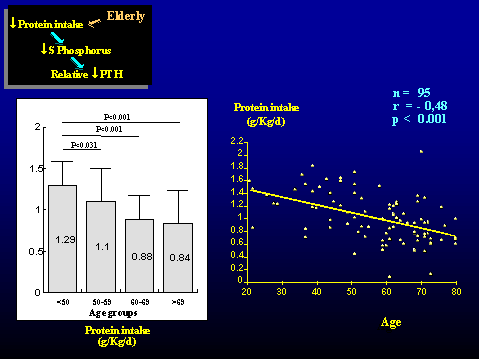 Patients were divided into 4 groups according to age. As can be seen in the next Figure, protein intake decreased significantly with age. Univariate analysis also shows that age correlated negatively with protein intake.
In a subsequent analysis, a significant positive correlation was found between serum P and protein intake. And also, between serum P and PTH.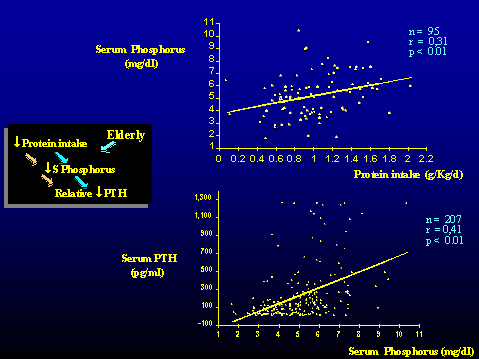 A stepwise multiple regression analysis to predict PTH levels, showed that serum phosphorus was the best independent predictor, (followed by the serum calcium concentration). Independent variables: time on HD, sex, diabetes, serum calcium, and serum P.
| | | | | | |
| --- | --- | --- | --- | --- | --- |
| | B Coeff. | B St error | b | T | Sig. |
| Serum P | 104 | 21.6 | 0.45 | 4.87 | < 0.001 |
| Serum Ca | 106 | 41.0 | 0.24 | 2.59 | = 0.011 |
Finally, the next figure show that, both, the mean serum phosphorus and PTH decreased with age.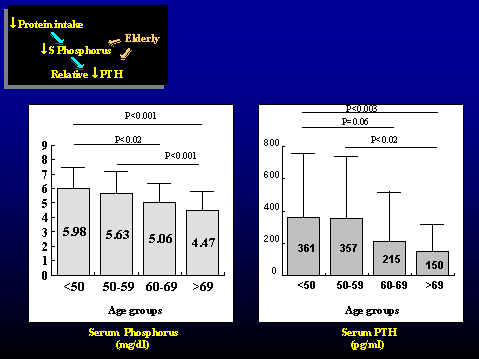 In summary, we conclude that:
1.- An age-related decrease of osteoblast response to PTH favors the development of ABD in older MHD population.
2.- The spontaneous reduction in protein intake observed in older patients on MHD is associated with lower levels of serum P. The control of serum P is in part responsible for the relative low PTH levels and the higher incidence of ABD in elderly MHD patient.
These findings may help to clarify mechanisms by which adynamic bone is frequently observed in this patient population.
__________________________
Correspondence to:
Dr. Victor Lorenzo
Division of Nephrology. University Hospital of Canary Islands.
Ofra. La Laguna.
38320 Santa Cruz de Tenerife. Canary Islands. Spain
E mail: lorenzovictor@terra.es
---