SNAKES AND SNAKE BITE IN NEPAL
Sanjib K Sharma MD
Associate Professor, Department of Medicine.
BP Koirala Institute of Health Sciences, Dharan, Nepal.
Introduction:
Nepal is a small and beautiful Himalayan kingdom with a population of 23 million, 91% of whom live in rural situations. It has extremes geo-ecological and climate diversification and divided into three ecological zones, mountain, (4788 M to 8,848 M), Hill (610 m to 4788 M) and terai (low flat land)1. Agriculture is the main stay of Nepalese economy and absorbs 90% of the labour force (Figure 1). The agriculturally prosperous terai region with hot climate, high seasonal rainfall, lush natural vegetation, high density of rodents, rich reptiles and amphibian flora making ideal habitat for snake to live and increase availability of marshy land to undergo hibernation. The abundance of snake and human activities, mainly agriculture, increases the man – snake encounter leading to snakebite.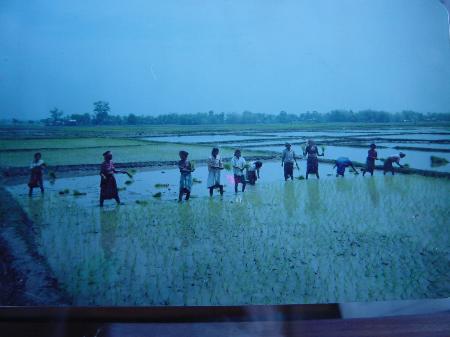 Snakebite occurs in all parts of Nepal, but is more common on the Terai and some valleys of middle hill regions, where there is tropical climate that favors the snakes (Figure 2).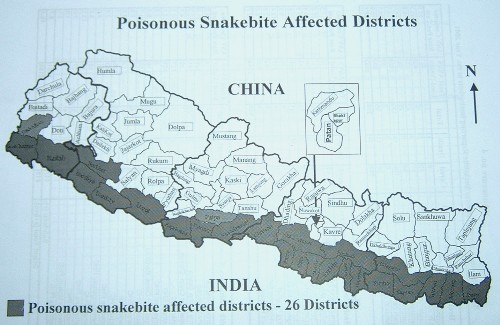 Snakes of Nepal- Cultural and Religious View:
Snakes are deeply rooted in Nepalese culture and tradition. The snake has an important place as a divine power in Hindu and Buddhist traditions and features in the epics such as the Mahabharata. Hindu people worship the king of snakes (Nag) in the snake festival (Nagpanchami) that is celebrated in July in mid monsoon. They believe that by doing so snakebite can be avoided and rain will be assured for their crops. Colorful posters of snakes are pasted on the main door of the house and milk and money are offered to the priest and snake charmers to feed the snake. The fang of the snake is recognized as symbol of power and is featured on the throne of His Majesty the King. It is said that any one who wishes to harm the King, will be punished by the snake.
Snakes of Nepal:
Different types of snakes are found at every altitude from tropical terai at 100 meters right up to the high mountain regions at 4800 meters. Although the snake fauna of Nepal is believed to be exceptionally rich due to its geographical location, only 77 species of snakes are so far been identified and twenty one species are poisonous. All snakes of poisonous family belong to elapidae and viperidae. The family elapidae contains Cobra, Krait and coral snake and process powerful neurotoxins, while viperidae includes viper and pit vipers. The cobras are represented by two genera and three species (Naja naja, Naja kauthia, ophiphagus hannah) while only one genera and five species of kraits (B. bungaroides, B. caeruleus, B. fasciatus, B. lividus, B. niger) are found in Nepal2. Viperidae family consists of five genara and 12 species. The Russell's viper (Doboia russelii) venom comprises of powerful enzymes like proteinases and non-enzymes (e.g. hemorrhagins) and are responsible for bleeding manifestations. Russell's viper envenomation is associated with significant renal involvement, mostly acute renal failure, and is of importance to nephrologists.
Magnitude of the problem:
Worldwide the published statistics on the incidence, morbidity and mortality are largely based on the hospital data and is grossly inadequate except for a few countries where snakebite is rare or is correctly reported 3, 4. In Asia alone, it has been estimated that four million snake bites occurs each year of which 50% are envenomed resulting in 100,000 annual deaths 3.
In a developing country like Nepal accurate data is very hard to obtain. Snake bite is a common event in many rural areas where transportation and medical facilities are grossly inadequate. Most of the trained health workers are urban based where snakebite is rare. Therefore faith healers play a major role in the treatment of snakebite. Death not infrequently occurs before the victim is brought to the hospital. Existing epidemiological data in Nepal are scarce and rely exclusively on hospital registrar analysis, which underestimates the true impact of snakebite in the community 5, 6,7,8,9,1011,12. According to report from Ministry of Health, Nepal, 497 snakebite cases were treated with anti snake venom (ASV) in 200113. However it does not include the cases treated by various NGO's, Private sectors and army institutions. We carried out a hospital based survey in 10 hospitals in Eastern Nepal in the year of 200011. There were 4078 cases of snakebite (407/Hospital/Year) of who 379 had signs of envenomation. The CFR varied among the centre surveyed from as low as 2.82% to as high as 58% (Mean= 21.37%). Similarly high numbers of snakebite cases are reported of lately from Western Nepal12. In one hospital, 240 cases in one year were recorded of whom 37 of them had features of systemic envenomation. A baseline epidemiological study was conducted from1980 to 1985 in 15 district hospitals in collaboration with WHO14. During this period 3189 cases were treated. 144 victims died (CFR: 4.5%). It was estimated by WHO that more than 20,000 people are bitten by snake and one thousand die from snakebite each year in Nepal.
Till date there is only one community based study on snakebite in Nepal15. This community-based survey was undertaken in randomly selected 74825 people from a reference population totaling 1,600,000 from 3 districts in Eastern Nepal. 143 snakebites, including 75 bites with signs of envenomation and 20 deaths were reported. The resulting annual incidence of snakebite and mortality due to snakebite were1162/100000 and 162/100000 respectively and is highest in Asia. The most common cause of death was late arrival at the hospital. The sequelae of the snake bites were also significant. The scar with limb deformity was seen in 7%, while chronic wound was present in 5% of the survivors (Figure 3).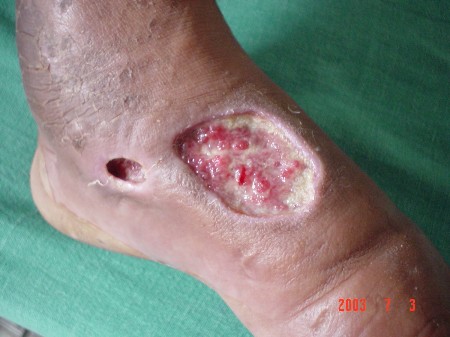 Management of snakebite in Nepal:
Snakebite is medical emergency and survival of the victims depends much on the appropriate first aid measures and immediate transportation to the nearest health center where the facility to administer anti-snake venom and supportive care is available. In developing countries where snakebite is mostly prevalent traditional faith healers, snake charmers and religious man (Dhami) treat majority of the victims16. In rural population of Nepal the doctor-population ratio is far from accepted norms at around 1:50,000 and most of the trained health workforce is urban based17. The people of rural areas seek health care from practitioners of indigenous medicine17. In many tropical countries, snakebite is an occupational hazard for poor rural people, who tend to have more superstitions and faith in herbalists, faith healers, shamans etc. Popular traditional methods of treatment include chanting of incantations, attempts to suck venom from the wound by applying the anal sphincter of a chicken and the application of mitjidates, lexins, tiriyaq and latex from a climbing plant known as the snake guard 5. The patients who report to traditional healers are referred to hospital when their symptoms deteriorate and often die on the way to hospital. In our survey we found that, all deaths occurred in the village or during transport to the health centre and majority had visited a traditional healer first. The most common first aid method practiced is quasi-universal use of tourniquet. There is total absence of application of pressure immobilization technique. Cases of gangrenous limb secondary to prolonged use tourniquet are seen often (Figure 4), so also, necrosis related to use of various chemicals and burn.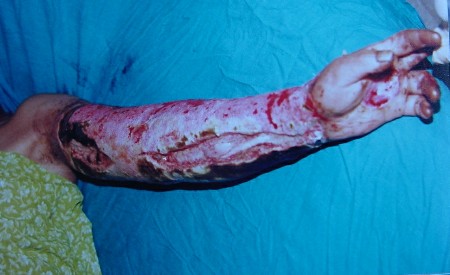 There is gross disparity in the management and outcome of snakebite in different hospitals. The national case fatality rate (CFR) was 19% in the year of 2000, while that of ten hospital of Eastern Nepal ranged from 2.6% to 58%11(Table: 1). The significant difference in the CFR among various centers may be due to lack of national protocol among many other reasons.
Table 1: CFR in eastern Nepal
| | | | |
| --- | --- | --- | --- |
| Name of the hospital | Total cases of snake bite | Cases with envenomation | CFR (%) |
| BPKIHS@ | 281 | 30 | 16.66 |
| Koshi* | 591 | 28 | 21.4 |
| Sagarmatha* | 530 | 48 | 58.33 |
| Janakpur* | 314 | 56 | 16.07 |
| Rangeli** | 144 | 10 | 20 |
| Inurua** | 287 | 11 | 36.36 |
| Siraha** | 341 | 20 | 55 |
| Lahan** | 357 | 39 | 25.64 |
| Char-aali* * * | 629 | 66 | 6.06 |
| Damak$ | 604 | 71 | 2.82 |
| Total | 4078 | 379 | 21.37 |
@ B P Koirala Institute of health Sciences – A tertiary referral and teaching hospital.

* Zonal Hospital
** District Hospitals
***Charali army barrack –center involve in snakebite treatment
$ Snake bite treatment center, Damak Red Cross sub center.
Snakebite and Renal failure:
Renal involvement has been associated with envenomation by viperidae, hydrophiidae and colubridae families 18,19,20,21. Development of acute renal failure (ARF) is a serious and significant complication and majority of cases of ARF result from viperidae envenomation. The incidence of ARF in viperidae envenomation ranges from 13 to 32% 22, 23, 24. In a large series of 1862 patients dialyzed for ARF over 21 years' period venomous snake and insect bite constituted 3 % of all cases of ARF25. In Nepal most of the snakebite cases are due to elapidae family. However, as Russell's viper is found in Nepal, the complications related to its bite also occur. The development of renal failure is determined by the amount of venom injected, the time interval between envenomation and ASV and general management. Although the acute tubular necrosis is the predominant lesion observed, patchy or diffuse cortical necrosis also occurs 22, 26, 27. Some features which have been found unique to snakebite induced ARF include severe tubular and vascular lesions, increased apoptosis in the distal tubule and presence of eosinophils, mast cells and fibroblast in the interstitium28. Pathogenesis of renal lesion is mainly due to disseminated intravascular coagulation, intravascular haemolysis, hypotension, rhabdomyolysis and myoglobunuria. Direct nephrotoxicity of venom18 and hypersensitivity to ASV29 also have been implicated. In general renal failure usually occurs from a few hours to as late as 95 hours following the bite and is predominantly oligo-anuric 30, 31, 32. Most of the ARF are hyper-catabolic. Hyperkalamia may be striking in sea snakebite due to myonecrosis, so also in viper bites. The basic therapeutic approach for acute renal failure is same as that for ARF due to any other cause32. Recovery of renal function is usually complete except for those with cortical necrosis or severe tubular necrosis and marked interstitial changes. Early administration of ASV is vital therapeutic measure that may prevent development of ARF.
Conclusion:
In Nepal twenty one species of venomous snakes are identified till date. Although Cobra and Krait are commonly found and neurotoxic features dominate the clinical picture Russell's and pit vipers can cause renal related lesions, mainly acute renal failure. Incidents, morbidity and mortality related to snakebite in Nepal are very high because of predominant rural based agrarian society that support the snake fauna and expose the human being to the risk of bites. Lack of transport facilities and inability to afford transportation leads to delay or inability in seeking medical treatment by many victims in rural setup. It may lead to respiratory failure and death. There is gross disparity in the management and outcome of snakebite in different hospitals. Training of the personnel engaged in the emergency healthcare management, adherence to the available standard protocol, development of national guidelines based on the clinical trials would help to eliminate this disparity and result in effective management of snakebite.
REFERENCES:
Nepal Central Bureau of statistics, Statistical Year Book of Nepal 1999.
Karan B Shah. Checklist of the herpetofauna of Nepal with English and Vernacular names. NAHSON Bulletin 1998; 8: 25 - 30.
Chippaux J-P. Snake-bites: appraisal of the global situation. Bull WHO 1998; 76(5):515-24.
Reid HA, Theakstone RDG. The management of snakebite. Bull WHO 1983; 61:885-95.
Bhetwal BB, O, Shea M, Warrell D A. Snakes and Snakebite in Nepal (Editorial) 1998; 28(4): 193 -195)
Devkota UN, Steiman JP, Sha LN. Snakebite in Nepal; a study from Siraha District. J Nepal Medical Association 2000;39:203-209
Hansdak Sg, Lallar KS, Pokharal P, Shyangba P, Karki P, Koirala S. A clinico epidemiological study of snakebite in Nepal. Trop Doc 1998; 28: 223 - 226. Heap
BJ, Cowan GO. The Epidemiology of snakebite presenting to British military hospital, Dharan, during 1989. J R army Corps 1991; 137: 123 - 125.
Joshi DD. An Epidemiological Survey of snakebite case in Dhanusha District. J Nepal Med Association 1983; 21(3): 1 - 7.
Joshi DD. Epidemiological Surveillance on snakebite case treatment and mortality on Nepal. J Nepal Med Association 1982; 20(4): 22 - 30.
Sharma SK, Khanal B, Pokhrel P, Khan A, Koiral S. Snakebite- reappraisal of the situation in Eastern Nepal. Toxicon 2003;41:285-289.
Thapa Cl, Khanal GP, Shah K B. Snakes and snakebite study based in kaligandaki Hospital terai region of Nepal. J Nepal Med Association 2001(abstract).
Incidence of poisonous snakebite in Nepal. Annual Report. Epidemiology and Disease Control Division, Ministry of Health, HMG, Nepal. 2001:63-71.
World Health Organisation. Zoonotic disease control: Baseline epidemiological study on snakebite treatment and management. Nepal WHO weekly Epidemiolog Rev 1987; 62: 319 - 20.
S.K. sharma, F.Chappuis, N. Jha, P. Bovier, C Sah, L. Loutan, S. Koirala. 'High Morbidity and Mortality due to snakebite- Southeast Nepal' Paper presentation and abstracted in proceeding of 8th conference of International Society of Travel Medicine, May 7 – 11, 2003, New York.
Whitaker R. Snakebite. In: Common Indian Snakes. A field Guide. New Delhi, Macmillan India Limited, 1978; p: 94-104.
Jha N, Kannan AT. Utilizing Traditional Healer in Primary Health care. Regional Health Forum 2001; 5(2): 38 - 40.
Chugh KS, Aikat BK, Sharma BK, Dash SC, Mathew T, Das KC. Acute renal failure following snakebite. Am J Trop Med Hyg 1975; 24: 692-7.
Sarangi A, Patnaik BC, Das GC, Tripathy N, Misra G, Swain AK, Das GK. Renal involvement in viper snake-bite. Indian J Med Res 1980; 918-23.
Reid HA. Myoglobinuria and sea-snakebite poisoning. Br Med J 1961; 1: 1284-9.
Mittal BV, Kinare SG, Acharya VN. Renal lesions following viper bites. Indian J Med Res 1986; 83: 642-51.
Chugh KS, Pal Y, Chakravarty RN, Datta BN, Mehta R, Sakhuja V, et al. Acute renal failure following poisonous snakebite. Am J kidney dis 1984; 4: 30-8.
Verma SL, Gupta V, Wadhwa MB, Manhas AS. Bassi SD, Sharma M, et al. Incidence of renal involvement following snake-bite poisoning in Jammu. Proc XII Ann Conf Indian Soc Nephrol 1982, p4.
Mathew MT, Rajaratnam K. Renal papillary necrosis in ophitoxemia (abstract). J Assoc Physicians India 1987; 35: 20.
Chugh KS. Etiopathogenesis of acute renal failure in the tropics. Ann Natl Acad Med Sci (India) 1987; 23: 88-99.
Sitprija V, Boonpucknavig V. Snake venoms and nephrotoxicity. In: Snake Venoms, edited by Lee CY, Berlin, Springer-Verlag, 1979; 997-1028.
Chugh KS, Sakhuja V. Renal failure from snakebites. Int J Artif Organs 1980; 3: 219-321.
Date A, Shastry JCM. Renal ultra-structure in acute tubular necrosis following Russell's viper envenomation. J Pathol 1982; 137: 225-41.
Bhat RN. Viperine bite poisoning in Jammu. J Ind Med Assoc 1974; 62: 383-92.
Shastry JCM, Date A, Carman RH, Johny KV: Renal failure following snake-bite. Am J Trop Med Hyg 1977; 26: 1032-8.
Chugh KS. Snake-bite-induced acute renal failure in India. Kid Int 1989; 35: 891-907.
Warrell DA. WHO/SEARO Guidelines for the clinical management of snake bites in the Southeast Asian region. Southeast Asian J Trop Med Hyg 1999; 30(suppl1):1-85)